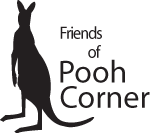 History
Pooh Corner was made Commonwealth military land during WWII.
During World War II, Pooh Corner became part of a major military camp for American troops based in Queensland called Camp Colombia. There are still some ruins of Camp Colombia within Pooh Corner. (Pooh Corner was only a small part of overall Camp Colombia military base.)
After WWII the Sanananda Barracks and Pooh Corner were retained for military use. Grenade training was conducted on Pooh Corner for many years. Hence there is an unexploded ordinance issue at Pooh Corner.
The UXO issues and the fact the commonwealth department of defense had hung onto Pooh Corner for so long, meant that the nature conservation values of the site were left relatively intact. (ie no cattle grazing.) This occurred despite all the urban and industrial development that went on around Pooh Corner as Brisbane grew after WWII.
See overview of successful campaign that saved the Pooh Corner bushland from being sold off to developers in 2005 by the Commonwealth Government.
We are keen to know more about the history of Pooh Corner. Please email us with any information.