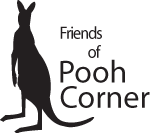 Brisbane City Council
City Plan - Preferred Land Use

Extract from Map A: Preferred Land Use, Chapter 4, page 362, Brisbane City Plan Volume 1, January 2002.
As this map shows the Brisbane City Council's preferred land use for Pooh Corner is "parkland for conservation purposes".
In January 2001 the high conservation status of Pooh corner was raised by former Brisbane City Mayor Jim Soorley at a Senate inquiry in Brisbane. Jim Soorley slammed the way the Department of Defence was disposing of high conservation land at Wacol (Pooh corner). See more.