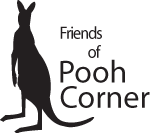 Stopping anti-kangaroo development within the Wacol kangaroo precint.
Unfortunately both State and Federal Governments in the recent past have been obsessed in selling off public land in the Wacol kangaroo precinct to developers. Proposed developments have included large scale industrial and housing estates that would eliminate areas Kangaroos need to roam.
Key examples were:
Federal Government Pooh Corner 2005 surplus defence land sales for industrial estate. Stopped by FOPC. [see due diligence maps of areas proposed to be industrial estate]



In 2005 -2006 State Government Westgate plan proposes converting DPI land and other kangaroo precinct areas into urban housing. This includes the option to cut a road through remnant bushland at PC. Local community and Environment groups united in oppositions over loss of roo's grass lands and of bush land habitat.