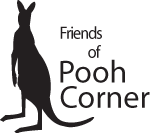 Media archive from 2005
On Saturday March the 5th, the Queensland Times ran a front page story announcing the sale of both Pooh Corner and the Wacol Army barracks as a package. The combined area for sale is 245 ha, made up of totally separate parcels of land (and separate titles). One of these parcels of land is adjacent to the Ipswich Motorway, Sanananda Barracks (107 ha). The other is the Pooh corner block.(138 ha).
The Queensland Times reported both State Treasurer, Terry Mackenroth and Mayor of Ipswich, Paul Pisasale supported the sale of Sanananda Barracks, a total area of 245ha. However when these same politicians were questioned by Friends of Pooh Corner, at a State government community cabinet meeting in Redbank Plains, they both stated that they thought the barracks site was 245 ha and did not realise that Pooh Corner was a separate block. When Friends of Pooh corner explained the nature conservation values of Pooh Corner, all these politicians stated they did not support development at Pooh Corner.
21st March 2005
Representatives from Friends of Pooh Corner attended a Community Cabinet meeting at Redbank Plains High School on Sunday 20th March. The conservation and associated legislative issues were raised with Premier Peter Beattie at a public forum. Friends of Pooh Corner also had meetings with each of the following: the treasurer Terry Mackenroth, the Planning Minister, Stephen Robertson and Environment Minister, Desley Boyle.
12th April 2005
Bernie Ripoll, Member for Oxley, supports call for Pooh Corner to remain in public ownership for conservation reserve. See his comments.
27th April 2007 -EPA responds to community pressure to do Wacol Roo Count
26th April 2007 - Why has the government gone quiet on Wacol kangaroo killing?
22nd April 2007 - Conservationists and local residents plan to disrupt cull in absence of consultation
| | | | |
| --- | --- | --- | --- |
| 14th April 2005 | Courier Mail | Land sell-off too much to bear | PDF file (496kB), Word doc without photo (35kB) |
| 14th April 2005 | Queensland Times | Land sale threat to Pooh Cnr roos | PDF file (120kB) |
| 13th April 2005 | 612ABC | Steve Austin Program | |
| 13th April 2005 | Courier Mail | Land sale runs foul of green regulation | PDF file (45kB) |
| 6th April 2005 | 612ABC | Steve Austin Program | |
| 7th April 2005 | Queensland Times | Wacol roo retreat for sale | |
| 7th April 2005 | The Satellite | | |
| 30th March 2005 | South West News | Conservation call for industrial site | |
| | | | |
| | | | |