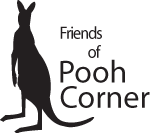 About Pooh Corner

Two parcels of land for sale, SANANANDA BARRACKS and POOH CORNER. Sanananda barracks is next to the Ipswich Motorway . We are only concerned with Pooh Corner which is located between Wacol Station Rd and the train line.

Pooh Corner is a large area of natural bushland with little disturbance, within 17km of Brisbane's CBD. It contains a creek and wetland areas, and is home to many species of animals, including Brisbane last population of Eastern Grey kangaroos. It is the only large area of bushland in Brisbane's south west.

Pooh Corner is home to 26 species of animals and 16 plant species which are significant at the Federal, State and/or Local level - ie. they are rare, or vulnerable.

Below are short descriptions of some of the values of Pooh Corner. This will be updated as more information is researched.
Endangered ecosystems
EPA's Regional Ecosystem mapping shows most of the site is endangered. See Regional Ecosystem map.
Vegetation Management Regulation 2000
Schedule 1, Part
Regional ecosystem

Regional ecosystem number
The Queensland Government is responsible for the protection of endangered ecosystems.
Brisbane City Council City Plan
Pooh Corner is home to one of, if not the last population of Eastern Grey kangaroos in Brisbane. Eastern grey kangaroos are a "significant species" under the Brisbane City Council.

It is likely to support populations of other "significant species", such as gliders.

City Plan shows the area is affected by waterway corridor code, wetland code, and biodiversity code - all of which strive to protect waterways, wetlands, and biodiversity respectively.

January 2002 Western Gateway Local Plan shows area as "parkland for conservation purposes".

1987 City Plan flagged the area as "green space"
Kangaroos and wallabies
Three species of macropods (kangaroos and wallabies) live at Pooh Corner - the Eastern Grey kangaroo, swamp wallaby and the red-necked wallaby.